Here's a healthy twist on an American ultra-comfort food dish that you wouldn't believe can be good for you too!
Nutrition Facts
Bacon Mushroom Mac and Cheese

Calories
180 Per Serving
Protein
11g Per Serving
Fiber
21g Per Serving
Cost Per Serving
$1.45
Nutrition Facts
×
Calories
180
Total Fat
6.0 g
Saturated Fat
2.0 g
Trans Fat
0.0 g
Polyunsaturated Fat
0.5 g
Monounsaturated Fat
2.0 g
Cholesterol
14 mg
Sodium
201 mg
Total Carbohydrate
g
Dietary Fiber
21 g
Sugars
3 g
Protein
11 g
Ingredients
6 ounces whole-wheat corkscrew pasta
3 slice uncured, nitrate-free turkey bacon (cooked to package instructions, diced)
2 teaspoon extra virgin olive oil
1/2 medium onion (diced)
2 clove minced, fresh garlic

OR

2 teaspoon jarred, minced garlic
2 cup mushrooms (sliced)
2 Tbsp salt-free, dried herbs, Italian blend (divided)
1/2 teaspoon black pepper
3 tablespoon water
1 cup fat-free, plain Greek yogurt
3 Tbsp grated, low-fat parmesan cheese
1 cup low-moisture, part-skim-fat mozzarella (shredded)
3 Tbsp "panko" bread crumbs (whole wheat, if available)
1 teaspoon extra virgin olive oil
Directions
Preheat oven to 400 degrees F.
Boil pasta according to package directions, omitting oil, butter and salt. Reserve 1/4 cup pasta water after pasta is done cooking.
Cook turkey bacon in microwave according to package directions, cool slightly and roughly chop.
In medium size pot heat 2 teaspoons extra virgin olive oil over medium low heat, add onion and garlic and sauté until onions are soft, but not brown. Add mushrooms, 1 tablespoon Italian seasoning and pepper, cook for 2 minutes, add water and cook 2 more minutes.
In a separate bowl, combine yogurt, mozzarella and parmesan. Add yogurt mixture, pasta water and pasta to mushroom mixture and stir to combine all ingredients. Remove from heat and transfer to oven safe 8x8 or 9x13 dish. Combine breadcrumbs, 1 tablespoon Italian seasoning and 1 teaspoon extra virgin olive oil and sprinkle evenly over the top of mac and cheese. Bake for 10 minutes and serve.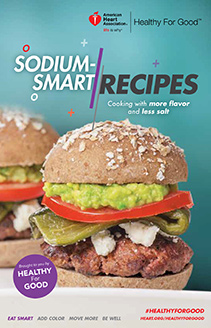 Sodium-Smart Recipes
This digest-sized booklet contains 28 recipes and photographs. It also contains information on how sodium affects overall health, a reference guide for sodium-free flavorings and provides American Heart Association's dietary recommendations.
Shop Heart